Three Kindergartens in Aarhus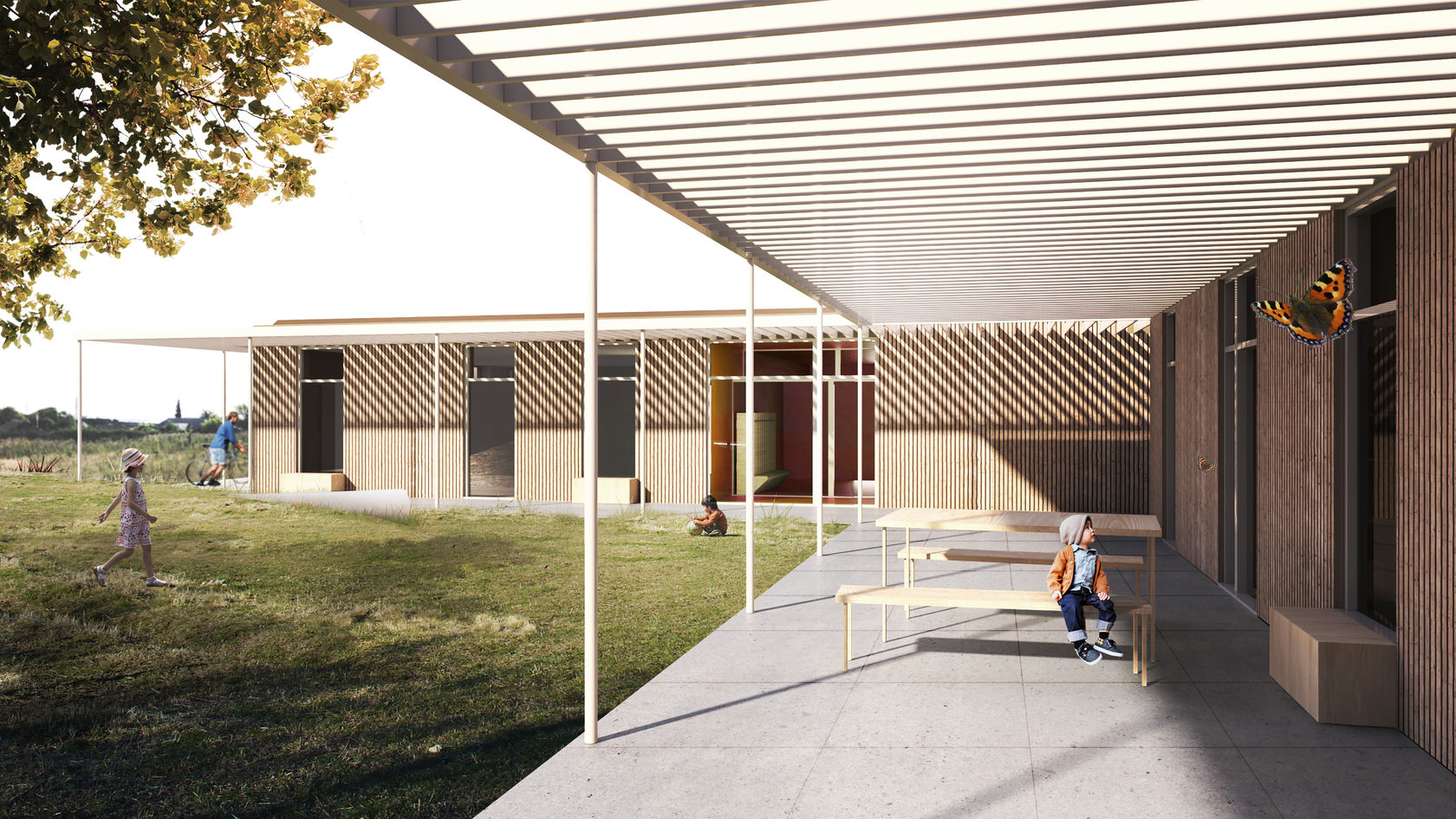 3 moves, 1 pass
Location

Aarhus, DK

Program

3 kindergarten and nurserys

Client

Municipality of Aarhus

Year

Competition 2017

Collaborators

D.A.I. rådgivende ingeniører, Ginnerup Arkitekter, NOVA5, Gustin Landskab

Contractor

LPH Byg
Three different sites in Aarhus (DK). Three variations of combined nursery and kindergartens. One client. One contractor. And only one deadline.
In a danish nursery and kindergarten children are assigned to a specific room ("stue"), each of which typically has 10-15 children with several trained grown ups caring for the children. This is not to say your child will only spend his/her time in one room, but it will give a sense of belonging. And for the children to remember to which room they belong, the rooms are often named after colours.
In Aarhus, we did the "colour trick", but on a larger scale. In order to distinguish every building from each other, we did an orange, a green and a red building.
Orange

Physical and outdoor activity is the main focus for the Skødstrup"childrens house", and it´s reflected in the architecture. The entrence and the outdoor sleeping areas are located in the center of the building,in order to free the outer facade for the children to have maksimum access to the garden and the playing areas that are organized in a 360 degree angle around the building.
Also the indoor is designed to make space for play and movement, and to inspire the children to persue a healthy way of living.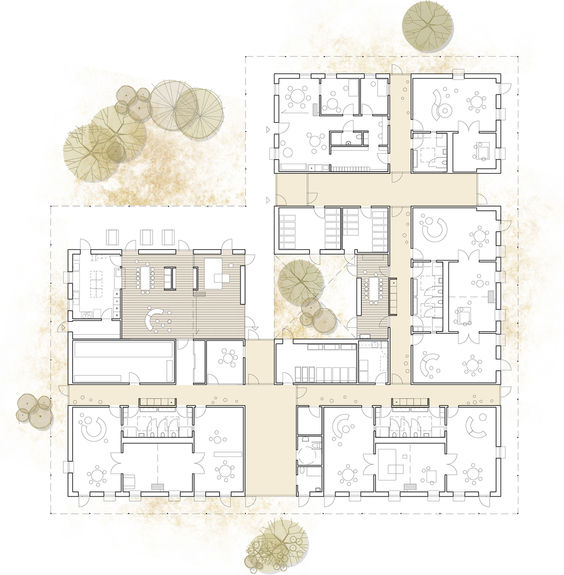 Green
How do you make a childrens house in three levels if all children must have equal access to the outdoor areas and to the shared activitiy areas?

Bryggervej is organized around a central green space that connect all levels as well as the indoor and the outdoor. This three dimensional space ties every part and every function off the house together - across age - across indoor and outdoor - across free and planned activities. Common rooms for motor skills, workshops, kitchen are, in this way, linked together with the basic kindergarten and nursery rooms. On the first floor there´s a large terrace and an outdoor workshop, and on the top floor a penthouse for the grown ups.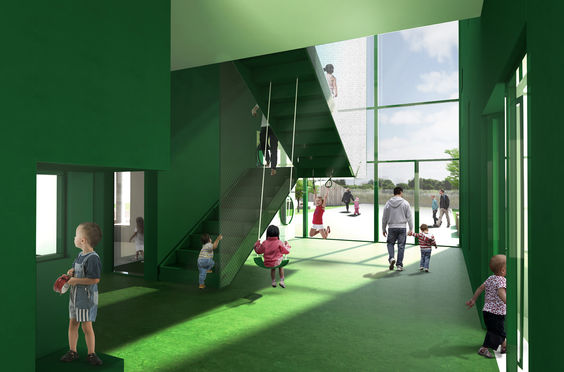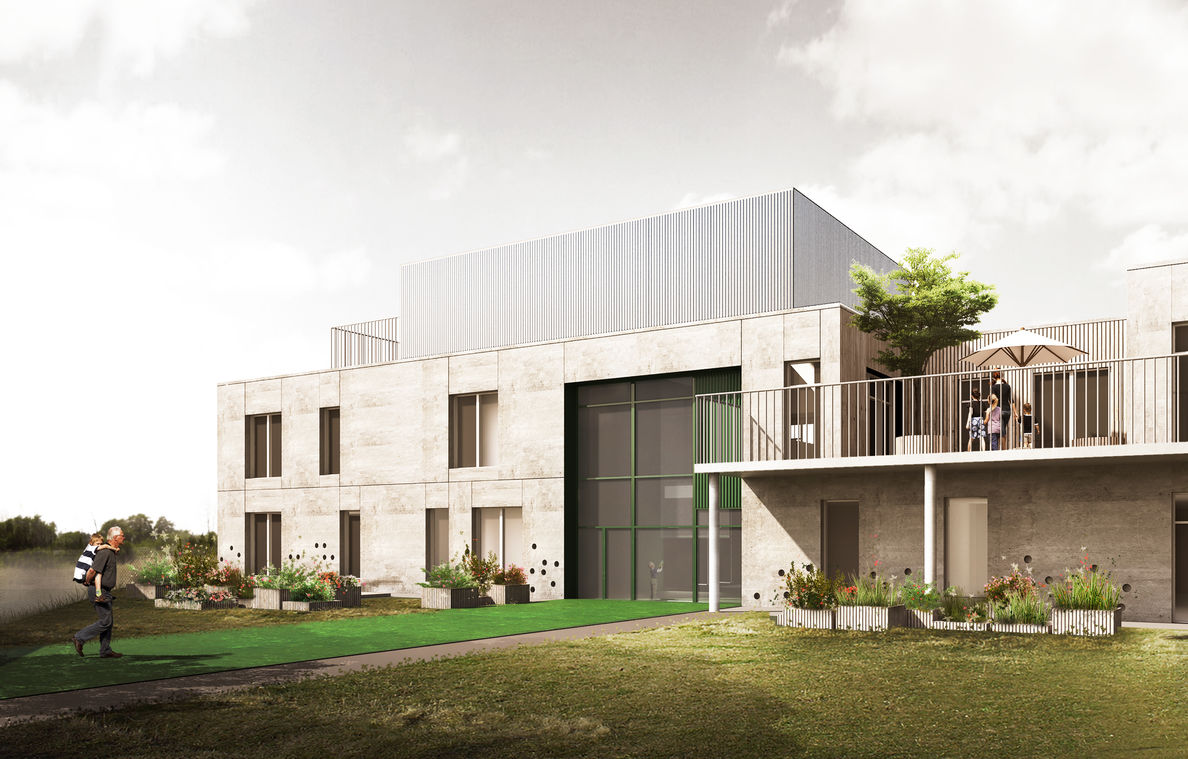 Red
Tranbjerg is a childrens house for music and theater. All functions are organized around a creative core - a court yard for outdoor performances. Everything is theatrical and slightly dramatically draped in monocrome red.